Aptar Beauty + Home is a global leader in consumer product dispensing solutions and innovative packaging experiences for the beauty, personal care and home markets. The company said it creates delightful product experiences. Resolutely responsible and infinitely innovative. With its portfolio of +13 broad technology solutions, regional technical centres in each of our regions, 41 manufacturing sites in 15 countries, it said it delivers over 16 billion solutions and over 400 Patent Families per year. All of its technology solutions make its range the largest of the market, it continued. The company added it partners to deliver life-changing, market-shaping solutions.
Aptar Beauty + Home said it believes that the packaging industry must move beyond the make, use, dispose behaviours of the past and actively work towards a circular economy. By circulating used plastic and packaging, it keeps it in the economy and out of the environment. Therefore, it is important to reduce the quantity of plastic needed, use recycled material, recycle plastic packaging at a high rate and develop reuse models.
Aptar Beauty + Home's vision is to design products and processes with people and the planet in mind and it is focusing its activities on three mains areas for sustainability: recycled materials, recyclability and reusability.
Collaboration is essential to achieving a more circular economy, so the company works with partners, suppliers and customers who share its vision. As a member of the Ellen MacArthur Foundation's New Plastics Economy Global Commitment, this innovation highlights its pledge to reduce environmental impact and support the Foundation's vision for a circular economy. The organisation is working hard towards its 2025 goals to achieve 10% of recycled content for its dispensing solutions for the beauty, personal care, home care, food and beverage markets, to eliminate problematic resins in all its products and to offer 100% recyclable, reusable or compostable products.
"We design our products and processes with people and the planet in mind. Our focus on eco-design of products and science-based targets is aligned to that of our partners such as the Ellen MacArthur Foundation, the World Business Council for Sustainable Development and many other organizations who are contributing to a more circular economy," explained Beth Holland, Vice President, Global Sustainability.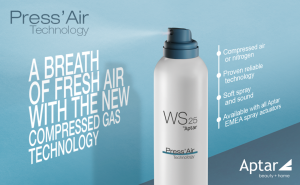 The company invites you to visit the Aptar Beauty + Home booth F12 at FEAerosol 2022 in Lisbon and discover its latest innovations and sustainable solutions.
The company will present its range of aerosol actuators made of recycled resin such as WAZ, Moritz and the WS family. They are available in 100% PCR (Post Consumer Recycled) resin in white and black as standard colours. Other colorus are possible on request.
With the usage of these dispensing solutions made of 100% PCR resin vs. 100% conventional resin, significant carbon emissions reductions can be achieved. Specifically, the WAZ actuator and WS range can achieve -63% kilograms (kg) of CO2 per 1,000 units while the Moritz actuator can achieve -33% kg of CO2 per 1000 units.
Furthermore, Aptar Beauty + Home will showcase its latest innovations like its compressed gas technology "Press'Air", a new twist-to-lock foam actuator and WS55, a new bicolour actuator that can be customised with the colours of your choice. WS55 has a comfortable finger pad with an optional soft touch effect. It is also PCR capable and POM free capable for a sustainable solution. The overcap is reinforced and passed the rigorous Amazon ISTA 6 test to guarantee e-commerce capability. WS55 will be launched in the first semester 2023 in Europe.
For more information:
Visit:
aptar.com
Booth F12 at FEAerosol 2022 in Lisbon.